GUI Design Themes
GUI Design Themes are a combination of Resource Kits and Templates used to make TouchLink and TouchLink Pro user interfaces. When creating a user interface from scratch, Resource Kits are a great starting place. These kits include items such as borders, buttons, AV icons, and many more design shortcuts to help you build an effective, full-featured TouchLink or TouchLink Pro GUI. Templates include all elements from Resource Kits plus pre-configured user interfaces geared toward the following applications: single display, dual display, multi-image, divisible room, and videoconference.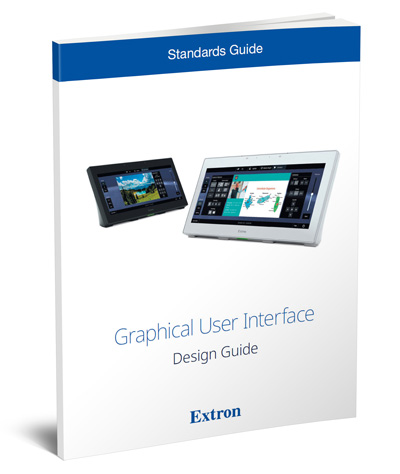 Extron Guide to Graphical User Interface Design
This Guide is written to be easily understood by system designers with user interface design experience, and by those wanting to be educated about proper interface design. Topics range from user interface guidelines - including information mapping, color considerations, ergonomics, font choice, and many others. A valuable reference for experienced layout designers, the Standards Guide is also appropriate for those who wish to learn the latest concepts and best practices of layout principles, design fundamentals, and layout standards.
Graphical User Interface Design Guide
17.1 MB
TouchLink Pro Themes
TouchLink Themes